EXHIBITIONS
Walid Sadek
Walid Sadek is an artist and writer. His early work from mid to late 1990s investigates the familial legacies of the Lebanese civil war. He later begins to posit, mostly in theoretical texts, ways of understanding the complexity of lingering civil strife in times of relative social and economic stability. His later written work, between 2006 and 2016, proposes a theory for post war-society disinclined to resume normative living. During those years, his artworks seek a poetics for a sociality governed by the logic of protracted war and search for eruptive temporalities to challenge that same protractedness. Around 2016, sensing a fundamental socio-political and intellectual change in the country, Sadek decide to conclude his post-war work which up until then grappled in various ways with the conditions of living in a protracted now. In a text published in 2019 titled "A surfeit of Victims: A Time After Time", he begins to theorize the conditions of living in a time after the time of post war, during which the memories of war are reduced to empty ciphers that can no longer constate a shared history.


Paintings 2020-2022 is his first exhibition of paintings and his first solo show in Lebanon since 2010.
Walid Sadek is professor in the Department of Fine arts and Art history at the American University of Beirut.

Walid Sadek
Paintings 2020-2022
11 August - 30 September, 2022
Nelsy Massoud
Nelsy Massoud's sculpture titled Metamorphosis expands on the transformative aspect of the being. Existence is performative and metamorphic, entailing a constant assertion of the being through the mutability of the self. Similarly, "caterpillars turn into butterflies," or when "materials take new forms," the structural loofahs bare new life forms. Metamorphosis is showing at the Saleh Barakat Gallery upper floor.

Born and raised in Lebanon in 1957, Nelsy Massoud first moved to Ivory Coast for four years before residing in New York for 23 years, where she learned glass mosaic and became the assistant of a master mosaicist Val. After a few open house exhibitions in New York, Massoud moved to Montreal, where she opened a gallery and workshop of mosaic for students, before coming back to Beirut in 20005. For five years, she was a manager and curator at 392 Rmeil 393 gallery in Beirut. In her exploration of various media, such as sand, polythene or glass, Massoud found a particular interest in the intertwining of light and colors in loofahs.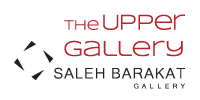 Nelsy Massoud
Metamorphosis
3 June - 23 July 2022

A SEARCH FOR THE FANTASTIC
THE DOCHE, SÉRAPHIM AND BARRAGE
21 July - 12 August, 2022
A SEARCH FOR THE FANTASTIC
A flashback to modern Lebanon of the 60's and 70's, pre-war Beirut, through this exhibition linking the works of a group of 3 avant-garde artists friends who have disappeared and been lost over time...

This project aims to create an identity for three Lebanese avant-garde artists and bring them together under the same school by highlighting the influence of the imaginary and the fantastic on their work.

The exhibition highlights the artistic journey of Georges Doche (1940-2018), Juliana Séraphin (1934-2005) and Fadi Barrage (1940-1988) through a selection of 25 works, and therefore represents a tribute and a revelation of their friendship. The various works proposed will sail around the notion of dreamlike, moreover, vestiges of their common past will reinforce the coherence of the works as the history that they shared together.

These artists appealed to the fantastic and the marvellous, a world of their own, in order to express their aspirations rather greater than those of the world in which they lived. By each adopting their own style, the 3 artists have used art to escape the reality of a country as beautiful as it is difficult to accept their free spirit.
The red thread of this exhibition is the world of dreams and the fantastic in Lebanon in the 60s and 70s. However, I dwell on the search for the fantastic and seek through this exhibition to highlight the revolution of these artists against moral and even sexual social taboos, their attempt to overcome contradictions through their paintings and even also to rediscover a part of the unconscious man-son that tends to be masked by authority, order and traditional values. Their works will aim to show the public their desire to liberate the spirit, the man and even the art as well as their dream of a better society where the passions of each individual, freed from all repression, harmonize for the good of all ; a world where art, freedom and love reign.
This exhibition is aimed at a very wide audience of the Lebanese population, the sole purpose being to promote a rediscovery of the past through the dreamy eyes of these artists who could easily take the public into the world of wonders.- Lawra Doche